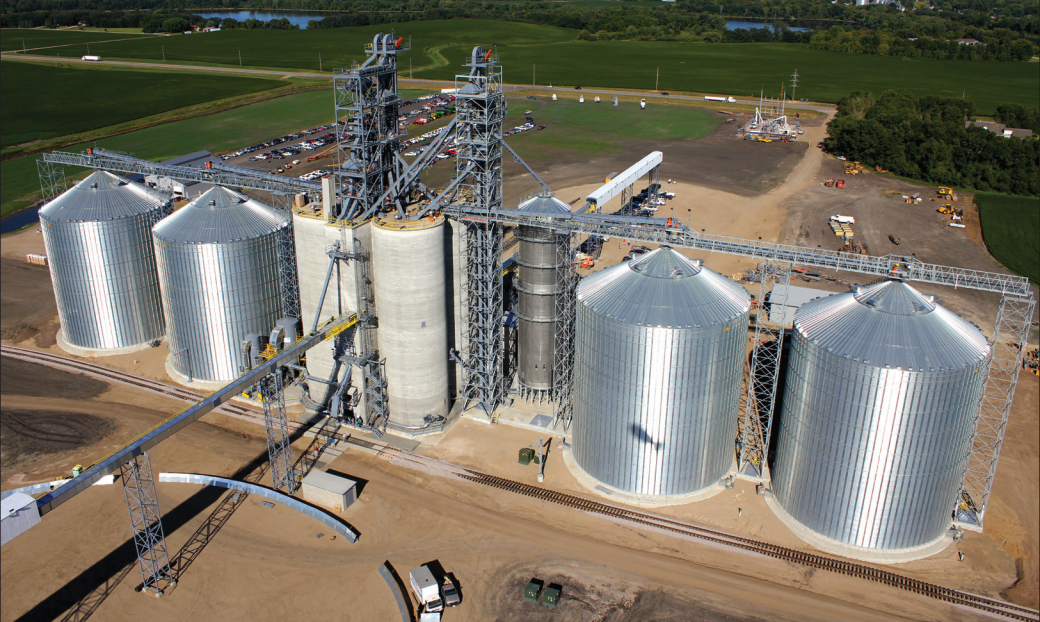 Prior to 2012, Winthrop, MN-based United Farmers Cooperative had two main markets for its corn and soybeans – the river terminals at Savage, MN and area ethanol plants.
"Livestock is not growing significantly in this area," says CEO Jeff Nielsen, who came to United in 1995 after holding positions with GROWMARK and Land O'Lakes, "and ethanol demand is not always reliable. Now, the weather extremes have shown that the river is not always dependable, either."
One service largely lacking in the region, about 75 miles west of the Twin Cities, however, was a rail shuttle loading service.
To rectify that, United teamed up with Decatur, IL-based giant Archer Daniels Midland Co. (ADM) in 2012 to form United Grain Service LLC (UGS), the purpose of which was to built a nearly 7-million-bushel rail-loading elevator with an 8,200-foot loop track in Brownton, MN (507-647-6600).
The venture selected a 160-acre site at the west end of town. It's at the intersection of two major highways, U.S. Highway 212 and State Highway 15, and has access to the Twin Cities & Western Railroad, a 146-mile short-line with service to the Twin Cities, where it connects with several Class I railroads.
UGS selected SM Associates Construction LLC (SMA), Monticello, MN (888- 259-9220), as general contractor. "They had done projects for United Farmers at two feed mills in the past," says Nielsen. "Our board toured about a dozen elevators around Minnesota and the Dakotas, and they were really impressed with the SMA projects. They're located about an hour away from here, and they do an excellent job."
In addition to SMA, VAA LLC, Plymouth, MN (888-583-3527), performed engineering work on the project, and SM Controls, Adams, MN (507-582-7865), designed and installed the facility's automation systems. Cross Country Construction, Elbow Lake, MN (218-685-6410), erected the steel tanks.
Construction began in September 2011, and the facility was completed in September 2012.