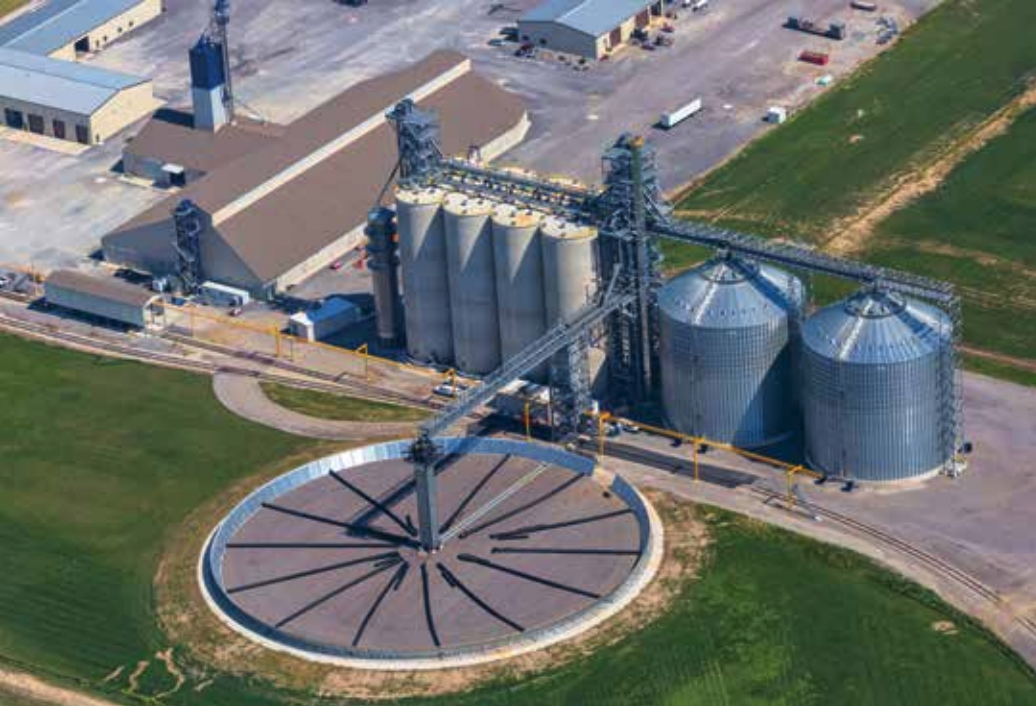 The Norfolk Southern (NS) and CSX Transportation are the two main Class I railroads serving the eastern half of the United States. For all of their thousands of miles of track, however, the two railroads have only two junctions outside of cities or towns. One of those two locations is approximately two miles north of the town of Milford, IN.
The location makes it a near-perfect spot for a $70 million grain and agronomy complex. TruHorizons LLC launched that complex at the beginning of September 2016, which includes a 4.4-million-bushel rail terminal elevator with loop track and a 38,000-ton fertilizer plant.
TruHorizons has been in existence only since 2012, a venture between Cargill AgHorizons and Piqua, OH-based TruPointe Cooperative. The venture also includes two other northern Indiana rail terminals at Bremen and La Paz, but those are served by single railroads, says Kyle Lehman, grain manager at Milford who has been there since May 2016, most recently having worked at an FC Cooperative elevator in Iowa.
TruHorizons acted as its own general contractor on the project. Among the major contractors the grain handler brought in on the project:
SMA LLC, Monticello, MN (888-259- 9220), did the design work on the concert foundations and slipform concrete tanks and built the slipform concrete structure.
Don R. Fruchey Inc., Fort Wayne, IN (260-749-8502), was the millwright.
Clear Creek & Associates Inc, Goshen, IN (574-537-9060), engineered all foundations, coordinated all mechanical equipment and structural components, and engineered and provided fabrication drawings for all custom structures and hoppers.
Control Stuff Inc, Cologne, MN (952-466-2175), supplied the control systems.
Area Energy & Electrical Inc., Sidney, OH (937-498-4784), served as electrical contractor.
LoweCon LLC, Crawfordsville, IN (765-866-8231), erected the steel tanks.